1 bottle contains 60 capsules | 1 bottle lasts one month
Our propiertory formula helps maintain high-performance — tackle your daily to-do's with a sharp, alert, & focused mind.
Maximize your potential — fight fogginess, boost brain health, and capture clarity with..
what to expect with LIMITLESS FOCUS
Our high grade blend of adaptogens and superfoods, enhances memory and overall cognitive function — don't you forget it.
Finally you can maintain that "Energizer Bunny" energy, without the jitters. Enjoy long lasting vitality without the crash — that's a promise.
Drop the title "Master Procrastinator" and hone in like a hawk. With focus like this, your daily feats are no longer fleeting.
forged from naturally sourced & sustainable ingredients; our one-of-a-kind nootropic is carefully engineered to optimize your long term brain functionality.
A key building block in Choline — this neurotransmitter enhances mood & memory.
This antioxidant not only provides a steady flow of reliable energy, but also helps mitigate the risk of many brain related illnesses.
Based in traditional Chinese Medicine; this super power of the herb world has been proven to improve memory & streamline learning capabilities.
Also known as "The Indian Pennywort" (our favorite moniker) — Bacopa lowers anxiety levels and enhances focus.
Who's using Limitless Focus?
OR anyone who wants to get the most out of their 24 hours.
read what others are saying about us
I have NEVER been a fan of taking supplements, but recently I had a girlfriend tell me this is a must have for any entrepreneur. after just a couple of uses, I noticed that i was able to get through all my daily tasks. I didn't find myself scrolling tiktok for hours at a time anymore, I ACTUALLY got things done. This stuff is a little miracle in a capsule.
-Sydney parker
(Entrepreneur)
I cant have a coffee without shaking like a leaf. I've searched through many alternatives, and finally found Limitless.
this stuff literally gives me the energy of four espressos. I can tell you its gotten me through every single midterm/final I've ever written.
-jamie d
(Student At University of Cambridge)
It's been just over a year now since I started taking Limitless Focus. As a mother of four and a business owner; this twice a day supplement gives me the perfect balance of energy and focus. I get my work done quickly, and still have more than enough time to spend with my children.
-elena rose
Elena Rose (Mother & Business Owner))
let us tell you how we're different.
Recommended by nootropics experts
The hype is real.. just ask twitter.
THE HYPE IS REAL...JUST ASK TWITTER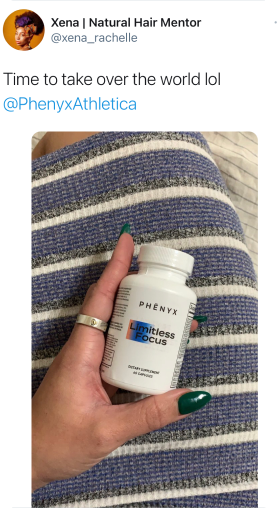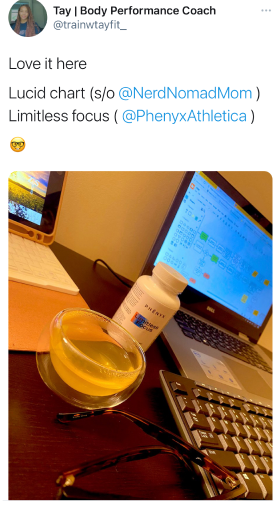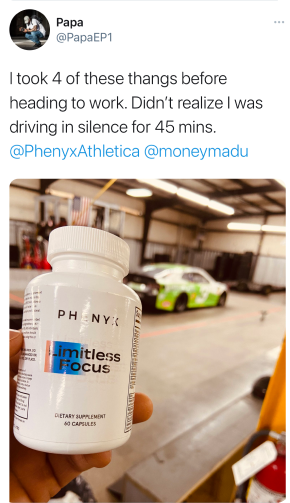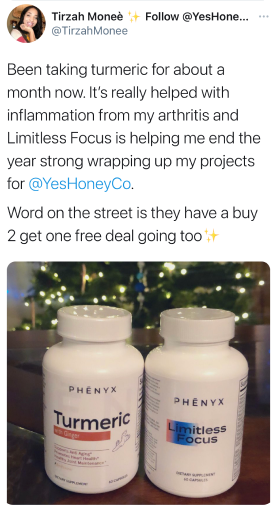 Slide to see all the reviews
If your question hasn't already been answered, feel free to ask — we're here to help. Message us at info@phenyxathletica.com
How do you use Limitless Focus?
Does Limitless Focus contain caffeine?​
Will Limitless Focus make me jittery?
Is Limitless Focus vegan or allergen-free?
It's about time you got the most out of your day.
TRY LIMITLESS FOCUS
Try risk-free. 30-day money-back guarantee
we can't stop making buzz on twitter